Your PortaCount rental options
Currently required to conduct fit tests? You're not alone. We have got you (and your rental needs) covered.
As well as stocking the full range of PortaCount respirator fit testers and accessories from TSI, we also offer the 8038 and (more recently) the 8048 for rent* – the only commercially available instruments in the world that can quantitatively fit test all tight fitting respirator face masks, including all N95, P1, P2 and P3 filtering face piece respirators.
How are we ensuring that renting is affordable and achievable for you?
Freezing our PortaCount rental rates for one year** – we know how important proper fit testing is right now
Continually investing in providing the best fit testing equipment and making it available to rent
Offering 20% off our standard rental rates for instruments while your own unit is being calibrated, helping to eliminate downtime
Get in touch with our team using the contact form to find out more about your rental options… Keep reading to find out more about the different Fit Testing equipment we have available to rent.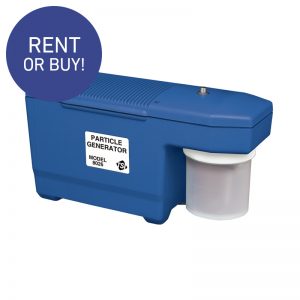 TSI 8026 Particle Generator
8026 is included with the rental
of the 8038 or 8048
3
We are happy to announce the newest addition to our rental family, and we hope you'll be happy too – Portacount 8048 units now available for rent.
*Please note you will be required to supply your own tablet / PC to operate the 8048, a tablet / PC will not be supplied with your rental; FitPro Ultra Fit Test Software must be installed on your tablet / PC prior to fit testing.
**Rental rate will be frozen for the 2020/21 financial year.
Minimum PC Hardware Requirements for FitPro Ultra Fit Test Software
Windows® 7 (32 and 64 bit), Windows 8 (32 and 64 bit), or Windows 10 (32 and 64 bit) operating system Microsoft.Net version 4 (installation software will install Microsoft.Net if necessary) Note — An internet connection is required to install Microsoft.Net ≥ 1 GHz process ≥ 1280 x 800 screen resolution monitor 500 MB free space on hard drive 1 free USB port
Minimum Tablet requirements
Windows® 10 operating system USB port (for initial set up)
PortaCount software is not compatible with Apple products