Community Dust Monitoring Network
Environmental dust monitoring solution to determine size of dust particles.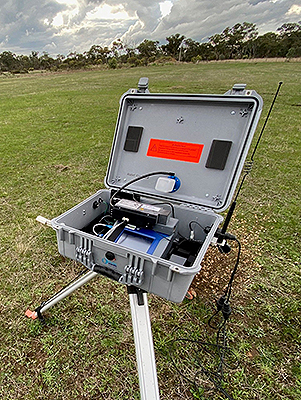 The customer
An agency involved in the protection, restoration and enhancement of the environment through the risk-based regulation of pollution, waste, noise and radiation.
The project
From 6 September to 9 September 2021, the customer installed three community-based dust monitors and anemometers (which monitor the wind and speed direction) in the backyards of volunteers in South Australia.
The sites were chosen by residents from a community working group and the agency. The monitors will determine whether the general dust in the area is of small enough particles to be a health concern, and SA Health is partnering with the community for this study to interpret the data.
Our solution
A rugged customised enclosure system was built using the industry-recognised TSI DustTrak DRX real-time aerosol monitor.
Along with Vaisala weather sensors and Pervasive Telemetry, the system, which can be quickly and easily set up and deployed to remote locations,  is able to transmit real time data back to the customer's headquarters for analysis.
The outcome
Live air quality data is now available allowing the customer's staff to monitor the data and measuring it against local and regional dust events.
Got a question about this project, or a similar issue you need to solve? Get in touch with our team to discuss your options.
Products used in this project
It's good to be in the know. Join our mailing list and let us keep you up to date on the things you want to hear about.