Meet the next generation PortaCount 8040 and 8048
There are two new additions to the PortaCount family.
Recently launched by TSI, the new PortaCount platform1 offers new software and features that will revolutionise your program's efficiency and productivity to assure worker safety.
With an intuitive interface featuring animated guides, wi-fi connectivity and real-time results, the new series builds on the strengths of the previous models to deliver a system that allows you to achieve a better respirator fit for more people in less time.

Keep reading to find out more about the benefits of the new system or use the contact form to send us a question, book a demonstration or discuss financing options available.
The new series continues to allow you to fit test all types of respirators…

One of the biggest enhancements is the fully redesigned FitPro Ultra™ software, which features an intuitive, app-like interface for ease of use, with fewer steps required to start a test meaning you can breeze through setup and get started.
Video animations guide your workers through the proper movements, freeing you up to multitask or set up others, and the new software also features FitCheck™ mode displays results in real-time as the worker adjusts the mask, providing them with instant feedback and guiding them to a better fit in less time.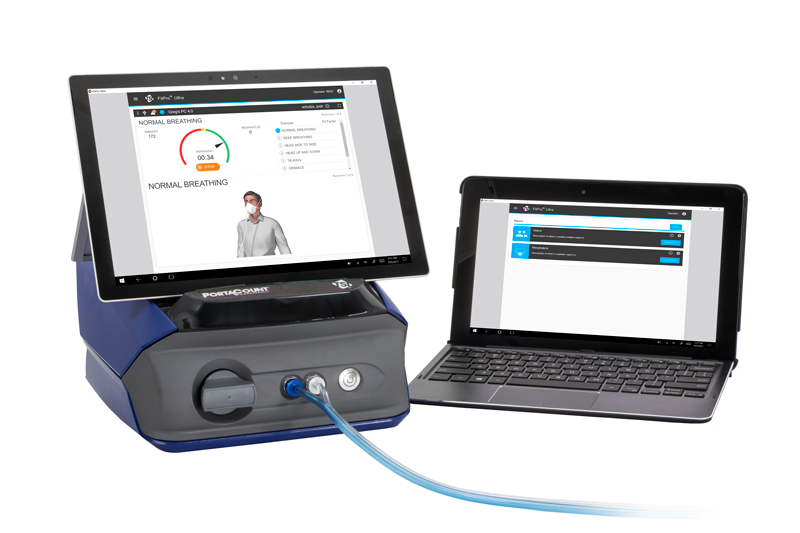 Utilising your own tablet or laptop rather than a built-in screen provides additional flexibility, with the option to use your existing hardware1 or purchase a device that suits your needs. With wi-fi functionality, you no longer have to be wired to your PortaCount to conduct a fit test, unless you choose to be.
If you've stocked up on consumables for your 8030 or 8038, don't worry – these are backwards compatible with the new models, and so is your data, meaning that you can combine data collected from all PortaCount models past and present into the same database and benefit from the improved database features of FitPro Ultra™.
For more information on the specific products, including spec sheets, brochures and application notes, click on the images below:
1Screen not included with base unit, this must either be purchased separately, or an existing device can be used if meets required specifications. Refer to spec sheet for full details.
2Trade-in offer ends 30 June 2018. Prices correct as at 9th of April 2018 and are subject to change without notice. All prices exclude GST and delivery. Customer will need to return their old unit to Kenelec Scientific before new unit can be dispatched.