IAQ monitoring for identifying ventilation problems
It's a fact that we are spending a lot of time indoors. Even more so now due the current public health crisis.
Given the impacts indoor air quality has on the comfort and productivity of those occupying the space, as well building maintenance costs and health and safety, it's easy to understand why there is an ongoing concern about the quality of the air we breathe, and the effect of poor ventilation in buildings on air quality and the spread of airborne disease†.
The good news?
Being educated on Indoor Air Quality (IAQ) can help you identify potential risks. There are a number of HVAC and IAQ testing instruments on the market today that can help to gauge the adequacy of the ventilation provided to an occupied space by a HVAC system, diagnosing and identifying building ventilation problems.
Many high end IAQ monitors incorporate multiple air measurement parameters – CO2, CO, Temp, Humidity and VOC – maximising their value while minimising their impact on your budget.
Keep reading to find out more about how to effectively measure indoor air quality or ask us a question using the contact form.
What is indoor air quality?
Indoor Air Quality encompasses a number of air parameters including, but not limited to:
Temperature
Relative humidity
Air velocity / Air flow
Outside air concentration
Volatile organic compound (VOC) concentration
Carbon monoxide
CO2 levels in particular are an important indicator of indoor air quality.
Carbon dioxide is a normal by-product of processes such as respiration and combustion, and elevated CO2 levels can be indicative of inadequate ventilation which in turn may affect occupant comfort and health, directly affecting productivity and operating costs.
How to measure IAQ
We also stock a range of TSI IAQ monitors that can measure multiple parameters for IAQ investigations. If you're new to IAQ, we'll help you get started with a discount of up to 20% off (capped at $2,000) selected models until 30th Apr 2020*. Interested? Contact us to discuss your monitoring needs.
IAQ-Calc – Cost effective IAQ meters for CO2 monitoring, plus CO, Temperature, Humidity measurement and data logging.
Q-Trak, P-Trak, YesAir- Advanced IAQ monitor for multi-gases, VOC, chemical vapours measurement, ultra-fine particles monitoring, advanced data reporting and analysis software.
Interested in learning more about conducting an IAQ assessment? Download a copy of the Indoor Air Quality Handbook from TSI – a practical guide to IAQ investigations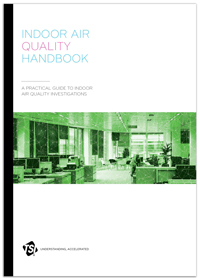 This valuable resource outlines the impact of poor indoor air quality, types and sources of pollutants as well as the "why" and the "how" when it comes to measuring IAQ parameters.
Click below to download.
* Offer ends 30 April 2020. Prices exclude GST and delivery and are subject to change without notice.
†We initially wrote that there is a risk that viruses such as COVID-19 can continue circulating through a central HVAC system; the current stance of WHO indicates that based on current evidence, COVID-19 virus is transmitted between people through respiratory droplets and contact routes, so we have amended our original statement as airborne transmission is different from droplet transmission. Apologies for any confusion or concern our original statement may have caused.  
Managing the health and safety risks from air pollution in the workplace is a duty for anyone conducting a business.