Webinar: new fluid mechanics system from TSI
There are some exciting developments coming up in fluid mechanics measurement.
In this webinar TSI are going to introduce you to a NEW state-of-the-art system for laser doppler (LDV) and phase doppler (PDPA) measurements. The new system will help you to obtain excellent results in your challenging fluid flow studies in aerodynamics and hydrodynamics, as well as providing simultaneous velocity and size information from sprays.
As an evolution of the FSA signal processor series, the new FSA 4800 and 5800 are characterised by a lot of improved performance features such as a higher doppler frequency range of up to 210 MHz.
It is powered by the new Flow and Particle Analysis software that acquires, analyses and presents your data as per your needs.
This 60 minute webinar will go through:
What can you now measure that you couldn't before?
What does an increased data-rate do for my flow statistics?
What is considered a 'dense spray' for PDPA, and what are the important parameters for measuring them?
When: Thursday 16 September 2021, 12:00 am (midnight), Australia Eastern Standard Time (Sydney, GMT+10:00)
How to join: click on the button below to register (and to get access to the webinar recording once available)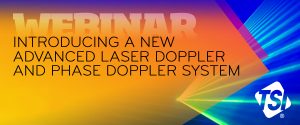 The Fluid Mechanics division of TSI has worked to develop superior fluid flow and particle measurement instrumentation for the global research community for over 50 years.
Find out more about TSI's advanced line of instrumentation, and the systems, components, services and upgrades available from Kenelec Scientific.