How to make LDV/PDPA measurements easier
When acquiring laser doppler velocimetry (LDV) and phase doppler particle analysis (PDPA) measurements, it can be difficult to achieve accurate and repeatable results and to visualize them clearly and easily without significant experience or excessive effort.
In this webinar TSI will introduce you to a NEW state-of-the-art measurement system that addresses those tough challenges. The new system has been designed to help you to obtain excellent results in your challenging fluid flow studies in aerodynamics and hydrodynamics, as well as providing simultaneous velocity and size information from sprays, while at the same time streamlining the data collection and analysis process.
Join for this 45-minutes webinar to learn more about:
What can you measure now that you couldn't before?
How does the FSA BurstPro™ software help you to make consistent and accurate measurements?
How does the Itasca laser module improve your high-speed flow or spray measurements?
When: Wednesday, 8 December 2021 2:00 am, Australia Eastern Daylight Time (Sydney, GMT+11:00)
How to join: click below for details on how to register and access the webinar recording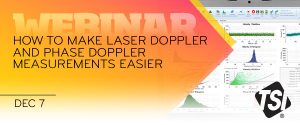 TSI Itasca Solid-State
Laser Module
The Itasca solid-state laser module is a uniquely-designed laser source for TSI's Laser Doppler Velocimetry (LDV) and Phase Doppler Particle Analyser (PDPA) systems.
TSI FSA 4800 / 5800
Signal Processors
The new TSI Flow and Size Analyzer (FSA) 4800 / 5800 signal processors are the complete solution for your LDV and PDPA measurements, providing the power to do more for your fluid mechanics research.
TSI FSA BurstPro™ Flow and Particle Analysis Software
This software represents the latest software package for LDV and PDPA measurements with optimal data acquisition, analysis, visualisation and presentation of results.
Find out more about TSI's advanced line of instrumentation including systems, components, services and upgrades available from Kenelec Scientific.