Meet the new TSI Certifier™ Pro Flow Analyzer
Introducing the new TSI 4090 Certifier™ Pro Flow Analyzer, an all-in-one benchtop test system that combines high and low flow measurements, pressure and temperature monitoring, as well as oxygen concentration analysis.
The Certifier™ Pro is an ideal flow monitoring solution for testing ventilators, anesthesia workstations, and any other respiratory medical devices that precisely measures high and low flows with an accuracy of 1.75% of reading throughout the entire flow range.
It can measure 28 different test parameters and graph data in real-time. Pressure and temperature compensated bi-directional flow sensors deliver highly accurate gas flow measurements with a fast rate of response and industry-leading, low-pressure drop. And it includes 4-year warranty.
What's more? The Certifier™ Pro Flow Analyzer kit includes an oxygen sensor (installed), high flow and low flow inlet filters, airway pressure fitting and silicone tubing, adapters (5), power supply with plug set, rechargeable Li-ion battery (installed), and ventilator hanger clip. Ideal for testing mechanical ventilators, anesthesia delivery machines, air-oxygen blenders, and more.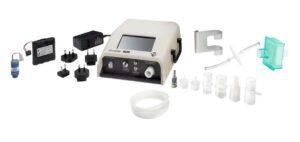 Ask us a question
[[[["field15","equal_to","Other"]],[["show_fields","field16"],["hide_fields","field7,field1,field3,field4,field11,field5,field17,field19,field20"]],"and"],[[["field17","equal_to","Trade show"]],[["show_fields","field19"]],"and"],[[["field17","equal_to","Other"]],[["show_fields","field20"]],"and"]]
TSI 4090 Certifier™ Pro Flow Analyzer
Features
Flow accuracy of 1.75% of reading
5-inch, color touchscreen
Intuitive user interface is simple to operate
User configurations for faster test setups
Save measurement data and screenshots, USB export
Flow Compare feature to perform quick flow self-checks
Rechargeable battery operation
Field replaceable oxygen sensor
Durable design – includes 2 year standard warranty plus 2 year extended warranty for a limited time